Blooming rose buds are always a joy to watch and when I saw this bud, I wanted to watch it bloom, to watch the deep red petals peeking out of the green. The bud swaying gently in the breeze…but then time didn't permit me to stand and stare.
I knelt down to capture it against the vast blue sky, and this is all I have. The scent has floated away, and the petals have fallen off. That is how life is, nothing is permanent.
Here is yet another shot of 'a dreaming rose bud' from my collection. To take this shot I squatted down, twisted and turned myself just to eliminate the neighboring buildings. This was taken in my friend's balcony garden, so no passers by, it was just she rolling with laughter seeing my stunts.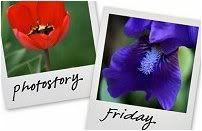 Hosted by Cecily and MamaGeek
(
For the next 15 days we will be on roads, touring the length and breadth of Rajasthan, India. Rajasthan, the land of Rajas (kings), the land of forts, the land of temples and the land of cenotaphs. I had been dreaming about this trip for the past few months, now finally all the bookings and reservations done, daughters' exams over, we will be off to enjoy the short vacation.
)
Seasons Greetings to you all, my dear blogger friends!