I have visited several museums, but the visit to the
Albert Hall Museum
at Jaipur will be an unforgettable one. The museum houses some rare Egyptian collection; one of them is the Mummy. I saw It there… very close… with just a glass pane separating us; the Mummy and me. I have never been so close to something dead and so old like this…
something belonging to 300 B.C.
It was kept in a glass box and looked as if the mask was covered with dust and torn worn out cloth pieces… do the dead really come back? The whole experience was eerie, yet exciting!
Have you visited the Pyramids? Do you get to see the Mummies so close there?
The Egyptian antiquities collection was put together for the Jaipur museum by Emile Brugsch, curator of the museum at Cairo. A guide published in 1885 mentions that 'as all articles are genuine and have been collected by one of the principal authorities on the subject, the student will find here all that is necessary to obtain a good insight into the subject of Egyptology.'
For more information on the Mummy, click and enlarge the shot below.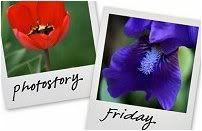 Hosted by Cecily and MamaGeek